Barrister, Mediator, and Director at ShenSmith Law
(As seen on YouTube as the BlackBeltBarrister)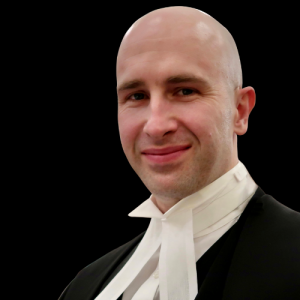 LLM Legal Practice (Barristers), Distinction
Bar Professional Training Course, Distinction
(BPP Law School)
LLB (Hons), First-Class Honours
(Open University) 
Year of Call: 2018
Memberships & Achievements
Member of The Honourable Society of the Inner Temple
BPP Law School, LLM Legal Practice (Barristers), Distinction
The Open University, First-class Bachelor of Laws with Honours
6th Degree Master Black Belt and Instructor, Tae Kwon-Do and POLARM Close-Quarters Combat Skills
Areas of Law
Civil, Company, & Commercial Law
Consumer Law
Intellectual Property Law
Family Law
Criminal Law
Mediation and Dispute Resolution
Overview
Daniel came to the Bar with 20 years' business experience and dealt with the company's legal disputes incorporating complex company and intellectual property law issues. For 8 of those years, he was the director of his own remote barristers' chambers. Latterly, Daniel was instrumental in pioneering the Bar Standards Board's Licensed Body law firm model and has since been involved with complex civil litigation and private prosecutions.
Daniel has a First-class Honours Bachelor of Laws and a Distinction Master of Laws in Legal Practice for Barristers, including Distinction grades for both the "Law Review and Reform" module and the "Legal Clinical Practice" module. Daniel also undertook the notoriously complex company law and intellectual property law options for his Bar Professional Training Course and achieve numerous "Outstanding" grades across the course. Daniel also had his pupillage reduced by 50% by the Bar Standards Board for both non-practising and practising periods.
Family Law
Daniel has knowledge and experience in matters of child arrangement orders and custody disputes and divorce law. Drawing on his extensive business career, Daniel has in excess of 20 years' experience in negotiating and resolving issues and conflicts to achieve a mutual and fair resolution to the most complex issues. These skills are essential to draw family conflicts and disputes to a swift conclusion and allow parties to move forward in a positive way and leave difficulties behind insofar as is possible.
Daniel achieved a distinction Master of Laws degree for Legal Practice for Barristers in which he undertook family matters such as child abduction, child contact, and divorce issues. Daniel achieved "Outstanding" grades for both the Conference module and the "Resolution of Disputes out of Court" module — both of which lend enormous weight to the practice of family law and resolving disputes with amicable and workable solutions. Daniel has an approachable and understanding manner as well as a keen attention to detail, where required.
Daniel has frequently appeared in court for child arrangement disputes and allegations of physical and emotional abuse. Notably, Daniel has advised on cases of international child abduction and emergency High Court applications for an order to return the child to the country of origin.
Criminal Law
Daniel is comfortable to undertake criminal matters and brings a keen analytical approach to both fact and law. Drawing on knowledge and experience in company law and legal practice, Daniel can bring clarity to complex events and scenarios for a robust approach. In R v S, Daniel achieved a suspended sentence order an indictment of 2 counts of possession of Class A drugs with intent to supply, contrary to section 5(3) of the Misuse of Drugs Act 1971. He has also advised on prosecutions under the Companies Act 2006 and private prosecutions under the Protection from Harassment Act 1997.
Company Law
Daniel draws on extensive business experience to bring a pragmatic approach to commercial matters, together with an in-depth knowledge of company law from modules undertaken on his Bar Professional Training Course. Daniel regularly undertakes advice, both legal and pragmatic, for companies embroiled in disputes and procedural difficulties.
Before coming to the Bar, Daniel was responsible for managing all of his company disputes for circa 20 years, alongside consulting for global PLCs; for example, working with the PLC's board of directors to recover £65 million of debt and resolving the issues in merging a large group of companies to resolve procedural and legal complexities.
Examples of Daniel's areas of advice include international trade disputes with linked allegations of fraud, private prosecutions for offences under the Companies Act 2006, shareholder disputes and retrieval of company vehicles from ex-company-members.
Intellectual Property Law & Data Protection
Daniel has handled numerous intellectual property disputes for his companies over 20 years' of successful trading; including trademark filings, applications and disputes, domain name and related goodwill disputes, design rights and proprietary company information in relation to trade. Daniel undertook IP modules both in his BPTC, for which he achieved an "Outstanding" grade, and in his Master of Laws, for which he achieved a "Distinction" grade.
Recently, Daniel has advised on a multi-million-pound intellectual property dispute involving complex software and sui generis database rights. Daniel is able to advise on any IP or Data Protection matter with a clear and pragmatic approach, bringing in knowledge and experience of company law and practice.
References from barristers
"His business skills speak for themselves. His interpersonal skills are considerable and he is a man of the utmost integrity."
– Stephen Harvey KC, criminal & regulatory barrister
"He is an able, dedicated barrister."
– Stuart Stevens, Head of Holborn Chambers
Publications
Daniel has published articles in Thomson Reuters, the Bar Council and the Solicitors Journal.
Daniel talked at the Annual Bar and Young Bar Conference. A discussion on ABSs with the Bar Standard Board. Daniel talked alongside Bar Standard Board Director General Dr. Vanessa Davies about new ABS structures and Licensed Bodies, delivering both the client perspective and service provider perspective on the new structures.
Session listing on the BSB website

Pro Bono work:
successfully negotiated on behalf of a multi-occupancy residential building against a commercial landlord to amend the terms of a lease.
assistance to local resident to obtain a divorce on grounds of abandonment.
stay of execution order and application to set Judgment aside under CPR 23.10.
drafting a successful objection to a planning application for a major local development that was set to affect several streets' of houses.
drafting and filing particulars of claim for several consumer claims, often resulting in out-of-court settlements before trial, including cases valued up to circa £90,000