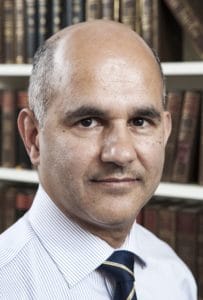 Sunil Rupasinha, LL.B. (Hons)
Called to the Bar 1983
Accredited Mediator
Accredited Litigator
Background
Sunil was based in London chambers for over 20 years during which time he practised as a criminal barrister both prosecuting and defending in cases ranging from common assault to murder.  He was appointed to the Attorney General's list of Advocates early in his career and within 5 years had been promoted to the 'A' list of Advocates which ranking is reserved for the best barristers on the list who were routinely expected to deal with difficult and complex cases.  He retained this ranking throughout the life of the list.  Sunil has wide experience in Crown Court cases from fraud and smuggling to all sorts of public order cases.
Current Specialisation
With the advent of public access to barristers Sunil decided to specialise exclusively in the representation of motorists at risk of loss of licence through prosecution for motoring offences  whether a motorist wishes to plead 'Not Guilty' and seek to avoid a conviction or 'Guilty' and seek to avoid a disqualification.  Over the course of his career Sunil has helped literally hundreds of motorists to save their licences and keep their lives on track.  As a junior barrister Sunil was regularly briefed by solicitors for the AA to defend their clients as well as being briefed by the CPS to prosecute in motoring cases.  Consequently, Sunil has a very broad range of experience in both prosecuting and defending in motoring matters which enables him to better advise and defend those who now seek his representation.